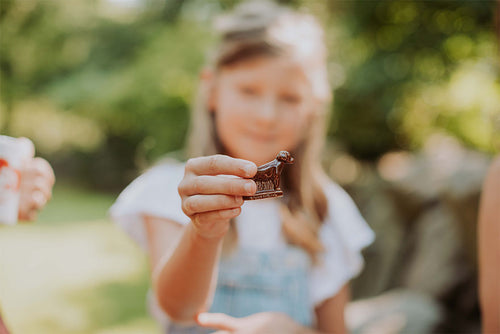 Does Red Rose Tea Still Have Figurines?
The question is asked quite frequently from avid Red Rose Tea drinkers. Does Red Rose Tea still have figurines? Red Rose tea figurines became a key part of the Red Rose Tea experience for decades and have made appearances in people's homes for generations.
Does Red Rose Tea still have figurines? Absolutely. Since 1967, Red Rose Tea has offered Wade figurines as part of its promotions for its specialty teas. But recently, many people have wondered if we have discontinued these items from our Red Rose Tea packages. We have not but the ways you can get the figurines have changed. For starters, they are available now through online orders only of select tea products or inside a carton of specially marked Red Rose Tea in stores. You may receive:
One free American Heritage or Mystery figurine with the online purchase of

Red Rose Original Black tea 100ct.
Red Rose Decaf Black tea 48ct.
Red Rose Decaf Black Tea Single Serve Cups 12ct.
Red Rose English Breakfast Black Tea Single Serve Cups 12ct.
Red Rose Original Black Tea Single Serve Cups 12ct.

Always be on the lookout for exciting new figurine launches!
Read on to learn everything you need to know about Red Rose Tea collectible past and present!
Can You Still Get Figurines in Red Rose Tea?
The success of Red Rose Tea figurines has been unprecedented since its inception in 1967. You can still get figurines in Red Rose Tea. In fact, over the years, we have been adding a new series of figurines every few years. 
Why Did Red Rose Stop Figurines?
This is a common misconception that Red Rose Tea needs to put to rest. We have never stopped the practice of offering free figurines with the purchase of our teas. In fact, since our American Series #1 all the way back in 1983, we have revealed 10 different Red Rose figurine series!
While many people think that the free figurines have ceased, the reality is that, since 2018, we have only made the figures available with online orders. Only occasionally do we include them as promotional materials in the boxes sold in stores. 
American Series #1, 1983–1985
Bush Baby

Owl

Bear Cub

Monkey

Lion

Elephant

Buffalo

Rabbit

Squirrel

Bird

Otter

Hippo

Seal

Wild Boar

Turtle
American Series #2, 1985–1994
Koala

Giraffe

Camel

Kangaroo

Tiger

Zebra

Polar Bear

Orangutan

Raccoon

Rhino, Beaver

Leopard

Puppy

Kitten

Rabbit

Pony

Cockatiel

Pine Marten

Langur

Gorilla
Circus Series, 1994–1999
Teacup Monkey

Lion

Poodle

Seal, Horse

Tiger

Ringmaster

Human Cannonball

Strongman

Bear

Standing Elephant

Rearing Elephant

Teapot Monkey

Blue Clown

Green Clown
North American Endangered Animals Series, 1999–2002
Florida Panther

Polar Bear

Peregrine Falcon

Green Sea Turtle

Humpback Whale

Sturgeon

Manatee

Timber Wolf

Bald Eagle

Spotted Owl.
Noah's Ark Series, 2002–2006
Noah and wife

Male and female Elephant

Hen

Rooster

Ram

Ewe

Lion

Male and female Rhino

Male and female Zebra

Goose

Gander

Lioness
Pet Shop Series, 2006–2008
Labrador Retriever

Parrot

Kittens

Puppies

Cat

Tropical Fish

Pony

Rabbit

Turtle

Duck
Calendar Series, 2008–2012
January: Snowman

February: Cupid

March: Leprechaun

April: Easter Bunny

May: Mother's Day Flowers

June: Graduation Cap & Books

July: Uncle Sam

August: Sandcastle

September: Scarecrow

October: Pumpkin Kitty

November: Turkey

December: Christmas Tree.
Nautical Wonderland, 2012–2015
Lighthouse

Mermaid

Sailboat

Gull

Seahorse

Ship's Wheel

Starfish

Compass

Conch Shell

Crab

Diver's Helmet

Treasure Chest.
American Heritage, 2016–2018
Arrowhead

Covered Wagon

Liberty Bell

Bison

Boston Tea Party Crates

Space Shuttle

Steam Train

Three Corner Hat

Tractor

The White House
How Many Red Rose Figurines Are There?
To date, over 300 million Red Rose tea collectibles have been sold in America alone. In total, when adding up each series from 1983, there have been more than 100 individual figures, which are detailed below. See which ones you are missing!
Are Red Rose Tea Figurines Valuable?
While Red Rose Tea figurines have been around far longer than their association with Red Rose Tea (they were originally introduced in 1954), since 1967, they have become a key part of what Red Rose has to offer. As collectables, they can be a very valuable addition to someone's collection.
Are Red Rose Tea Figurines Worth Money?
The very early ones were hand-painted, so they may have different designs, which makes them highly desirable to collectors. And depending on what you're looking for, you can find the tea figurines on eBay. It should be noted that Red Rose is not associated with Wade figurines prior to 1967.  
What is the Rarest Red Rose Tea Figurine?
There have been many classic Red Rose figurines and even Red Rose Tea ornaments that were available in promotions from 1967 to early 1980s! The rarest figurine is the one you like best in your collection!
What Is a Wade Whimsie?
A "Wade Whimsies'" is a type of Wade figurine that first appeared in the 1950s. Since 1967, they have become a regular part of Red Rose Tea, but the name can be traced back to Sir George Wade. When George Wade came into ownership of Wade & Sons in 1899, he rechristened it George Wade pottery and started to produce ceramic figures.
The ceramics work produced up until a new line developed in 1927, which was produced with a finish called cellulose. As World War II raged on in the late 1930s, ceramic production was limited to dinnerware and teapots, but once the war restrictions were lifted in August 1952, George Wade Pottery began production of decorated ceramics for the home. And the new figurines, boxed in sets of five and reintroduced as part of the pre-war animal figurines in 1953, were given the name "Whimsies."
Do Wade Figurines Still Come in Red Rose Tea?
Many of these figures were included in boxes of tea, and since 1967, a "Wade Whimsy," more commonly referred to as a Wade Whimsy, has been a key part of Red Rose Tea. Original Wade figurines were miniature glazed Red Rose porcelain figurines.
Today, Red Rose Tea still offers figurines that are similar. If you want to be a part of Red Rose Tea figurine history, you can order products now to start your collection, proudly put them on display in your home, or just use them to remember when life was simple! It's safe to say that Red Rose Tea figurines will not go away! We even offer a Red Rose Tea Figuring FAQ page if you have any more questions.
Keep Collecting Red Rose Tea Figurines Today!
Now you know the answer when people ask: Does Red Rose Tea still have figurines? We are still featuring our figurines through our Red Rose Tea products and this is not going to change! You can also purchase some Red Rose Tea figurines separately online. So, if you're looking to finish your collection, start a collection, or just see what we have to offer, Red Rose Tea will continue to be the tea that can provide you with figurines for generations to come.
Also know that right now you can get Red Rose Tea figurines the following ways: