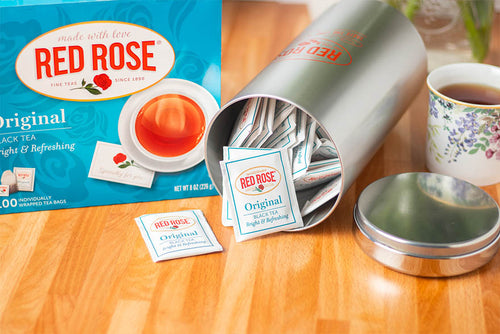 Gifts for Tea Lovers
Do you have a friend that loves to start their day with a warm cup of tea? Do you know someone that loves to go through their daily routines with a warm cup nearby? If you answered yes to any of these questions, then you've got a tea lover for a friend - lucky you! Tea is life! (sorry, coffee lovers). And when you find the perfect tea routine that suits you, you have a life companion. Some prefer to treat their mouths while reading their favorite book, while others prefer to use tea as the perfect welcome note for visitors. Some also love to drift away from the hassle of a busy workday, sipping a cup of black tea during lunch break. 
You get the idea by now - tea lovers love their tea! And this is why shopping for the perfect gift for such a person can be a very intimidating venture sometimes, especially if you're not a tea person. Therefore, we have taken the time to put together this article to help you find the best gifts for your tea-loving friend or loved one. 
What Is The Best Gift For Tea Lovers?
So, what is the best gift for tea lovers? If you know anyone that lives for tea, the best gift to give them is anything that will enable them to establish their tea routine with ease and make their tea experience more enjoyable. That means that the best gift for tea lovers can range from different types of tea accessories to the different kinds of their favorite tea. 
Let's take a look at some of the best gift ideas for tea lovers.
A Stovetop Kettle
Few things will make a tea lover happier than a chic stovetop kettle, allowing them to heat their water to the exact preferred temperature. That means it is best to opt for a stovetop kettle that comes with a thermometer to help the user gauge the water temperature. 
An Electric Power Kettle
An alternative to a stovetop kettle is the electric power kettle (although there is absolutely nothing wrong with having both). If your intended recipient isn't a fan of using the stove, then you can get them an electric power kettle instead. Most of these kettles are designed to automatically go off when the water temperature reaches the desired level. That means you no longer need to worry about keeping a close eye on your kettle. Some types of electric power kettles also allow the user to dial in their preferred temperature and let the kettle handle the rest of the work. 
A Tea Subscription
How about one gift that just keeps recurring? Getting your loved one a tea subscription gift is like getting your favorite sweetheart a bouquet of the favorite flowers delivered to them every morning. All you need to do is look for some excellent tea subscription options that will enable your favorite tea-loving person to receive months or weeks of delicious tea in various flavors. Just make sure that you choose the subscription package from a tea brand that the person prefers. 
A Beautiful Teapot
What's a wonderful tea time without a stunner teapot to serve with? Your tea-loving friend will enjoy serving their tea in a beautifully made teapot. The great thing is that there are so many options available to choose from. Just make sure that you pick out one in a color the recipient will appreciate, as that'll be an added perk. Another great thing is that teapots are available in different materials. You can find options ranging from glossy, clean-lined porcelain to glistering stainless steel material. Also, take the time to pick out one that makes for easy storage.
A Tea Bag Storage Jar
Every tea lover knows the importance of properly storing the tea leaves, so they do not lose their flavor. And there's no gift that can better get the job done than the perfect tea storage jar. There are a wide variety of elegant-looking tea storage jars available to choose from. And each one of them will ensure that the tea leaves remain fresh. These jars are as functional as they are pleasant to the eye. Not only will they keep all the tea flavors locked in, but your pal can display them proudly on their kitchen shelves. 
Biodegradable Tea Bags
Yes, there is such a thing as biodegradable tea bags. So, if your intended recipient is also very conscious of protecting the environment we live in, then a gift of biodegradable tea bags should be the perfect gift for them. Most of these products are biodegradable from their packaging to the used tea bags. That means you can toss them into your compost bucket.
An All-Purpose Beverage Tumbler
How about making your loved one's day (or life) with the perfect all-purpose beverage tumbler? Although such tumblers can hold other beverages like coffee or even water, our primary focus is on tea. There is a vast collection of beautiful all-purpose beverage tumblers available to choose from, and they come in different colors, sizes, and designs. These tumblers make it easy to carry your favorite tea beverage with you to work or the park. 
The Perfect Tea Mug
You may be wondering why we're now making mention of a tea mug. We're wondering why too. There is no tea party without the perfect tea mug. Sure, you can drink your tea in whatever you want. But nothing will kiss your parted lips better than the perfectly smoothened end of a tea mug. Again, tea mugs come in so many types, sizes, colors, designs, etc. And even if your favorite tea-loving person already has a collection of tea mugs they use, there is always more than enough room for one more.  
Funny Gifts For Tea Lovers
Tea lovers are always in the right mood for something lighthearted and funny - you can't blame them; that's just something a good cup of tea does to you. That means, if you have a friend with an unbreakable tea ritual, you cannot go wrong getting them a tea-related gift that puts a smile on their faces. That said, let's consider some funny gifts anyone can get for a tea lover. 
A Tea Advent Calendar
Believe it or not, you can actually shop for tea advent calendars. Aside from the taste of a good cup of tea, there are few things better than 24 days of flavor. The unique and fun gift will give your friend a range of different tea flavors to try; special thanks to you. You can also send a reusable advent calendar with loose leaf tea. Gift your favorite tea lover with a special way to count down the days using a reusable tea advent calendar. 
Luxury Tea Gifts
A beautiful tea time is one of life's little luxuries that everyone can afford. But there is always an opportunity to turn up the luxury effect a notch higher with the help of the right luxury tea gift. So, let's consider some luxury tea gifts worth getting your favorite loved one. Thank us later!
Tea stick
Have you ever heard of a tea stick? You may not have heard of one, but your tea-loving loved one probably has. And if they haven't, well, that is the more reason why you need to get them one. A tea stick is the perfect tea-loving luxury. Its design means that you can brew your favorite tea almost anywhere you want. The design is sleek and radiates luxury in every way. Plus, its size makes it so easy to carry along with you. 
The Perfect Bites
You might not get this if you're not a member of the tea-loving family, but any who appreciates good tea knows how luxurious the perfect side to a cup of tea is. Whether it is inviting company over for the proverbial tea party or just spending a quiet moment alone, the perfect cup of tea should go with the perfect side dish. Depending on what your loved one loves, take the time to pick the right pastry, waffle, truffle, or any other thing that will go with their cup of tea. This point may be a bit tricky as different people like different things to go with their tea, and some prefer nothing at all. The most important thing is to ensure that you know exactly what your friend wants - nothing a quick phone call cannot solve.
At Red Rose Tea, we offer the paradise that every tea-lover dreams of. We have a wide variety of tea products and flavors that send your tea-loving loved one into a state of constant gratitude. You can choose from our vast tea collection to give your loved one an all-year-round tea treat. And there's no reason to worry about consuming too much, as we also have in stock zero calories herbal tea.
Plus, you can also select from our collection of the perfect teaware, ranging from tea mugs to tea canisters. Red Rose Tea is your one-stop-shop for every gift you need for a tea lover.