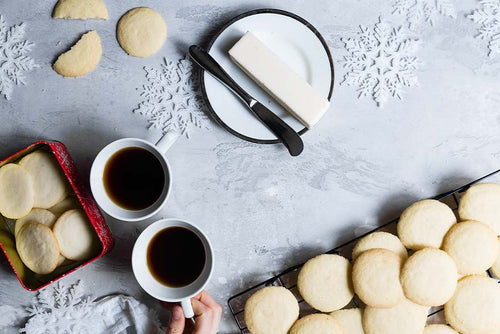 What is Sugar Cookie Tea?
Sometimes you might be looking for something sweet to eat or drink but you don't want the detriments that come along with those treats. Cravings like these call for delicious sweet temptations like a sugar cookie tea. A delicious beverage like this provides a sweet cookie taste fix during the holidays and any time of the year without feeling guilty about what you're drinking. 
What is sugar cookie tea? Sugar cookie tea, in essence, is a dessert tea that tastes just like a delicious sugar cookie. Even better, the sugar cookie tea you select should have the benefit of pure sugar cookie taste without the sugar and added calories that come along with the real cookies. 
We have outlined for you below everything you need to know about sugar cookies and sugar cookie tea so you can enjoy the sweet treat in a whole new way during the holidays and year-round!
What Are the 6 Types of Cookies? 
There are six types of cookies that people usually make around the holidays. These types are classified based on how the dough is handled to shape each cookie. The types of cookies include: 
Drop cookies

Bar cookies

Rolled cookies

Refrigerator cookies

Pressed cookies

Molded cookies
Drop Cookies
Drop cookies are made from soft dough and are dropped onto a cookie sheet for baking. 
Bar Cookies
Baked in a shallow pan, bar cookies are cut into bars or squares before serving. 
Rolled Cookies
Rolled cookies are made from chilled dough that is rolled and cut into shapes with cookie cutters. 
Refrigerator Cookies
Dough is rolled into long symmetrical rolls and wrapped in wax paper or foil and then chilled. This form of sugar cookie is chilled after being decorated. 
Pressed Cookies
When you force dough through a cookie press onto a baking sheet, you are making pressed cookies. 
Molded Cookies
Molded cookies are molded by hand, allowing you to add in ingredients like chopped nuts and to make designs on the outside with a glass or a fork. 
What is the Trick to Sugar Cookies? 
Sugar cookies are pretty simple to make but there are some tricks to making the perfect sugar cookies: 
The more moisture your sugar cookie retains, the chewier the cookie will turn out. 

Brown sugar can react well with baking soda in a recipe, helping the cookies to rise.

Too much sugar or butter can make sugar cookies spread out too thin on the pan and lose their shape. 

Bake your cookies when the dough is really cold. 

When you don't have the time, you can buy pre-packaged rolls of sugar cookie dough that became popular in the grocery stores in the 1950s and are still sold in stores today!
Why is a Sugar Cookie Called a Sugar Cookie? 
Today's sugar cookie is named after the Nazareth Sugar Cookie. German Protestants that settled in Nazareth, Pennsylvania brought the recipe with them to the United States when they settled here and the Nazareth Sugar Cookie eventually became the standard sugar cookie we know today. 
Is Shortbread the Same as Sugar Cookie?
A shortbread cookie is different than a sugar cookie. Sugar cookies are lighter, while shortbread cookies are denser and have less ingredients. Sugar cookies also typically are cut into different holiday shapes and are decorated with frosting, sprinkles and other ingredients. Shortbread cookies are thicker and the biscuit-type cookie from Scotland just comes in a circular cookie form. 
How Many Sugar Cookies Are Eaten Each Year? 
It's impossible to know how many sugar cookies themselves are eaten each year, especially since so many sugar cookies are homemade and made by families around the world each holiday season. 
We can tell you that the average American eats approximately 35,000 cookies in a lifetime and half the cookies baked in kitchens across the United States each year are chocolate chip cookies. 
Is There a Tea That Tastes Like Cookies? 
There is absolutely tea that tastes like cookies. There is even tea that tastes just like sugar cookies. Even better? That sugar cookie tea is attainable without the sugar and calories involved with the real sugar cookies and types of cookies we mentioned above! You can indulge your sweet tooth with a tea that will remind you of the sugar cookies you used to steal from your grandmother's cookie jar.
What Does Sugar Cookie Tea Taste Like? 
Sugar cookie tea that tastes like a cookie but is a wellness tea has all natural ingredients like: 
Chamomile

Dried Apple

Natural Flavor

Roasted Chicory
This type of delicious sugar cookie tea is also caffeine-free, has zero total fat, no sodium and no carbohydrates. Even better? It's 100 percent natural.
What Other Tea Tastes Like Sugar Cookies?
Did you know Red Rose Tea offers a delicious Sugar Cookie Tea for the holidays and for anytime of the year? It's a great treat to enjoy any time of the day and is available as part of our Sweet Temptations Collection. 
Even better? Our sugar cookie tea comes with zero calories, is naturally flavored, is caffeine free and is just lightly sweetened with Stevia. It's a gluten-free food too! Learn how to steep tea bags too, whether it's a sweet temptations tea or any other Red Rose variety!
Try Red Rose Sugar Cookie Tea Today!
Try our variety of Red Rose Tea today and make sure you stock up on plenty of sugar cookie tea this holiday season. Try sugar cookie tea in a Sweet Temptations Bundle along with Red Rose Bananas Foster to expand your dessert tea horizons!