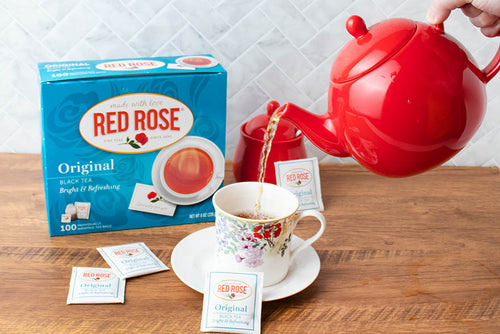 What is the Best Glass Tea Kettle?
If you love tea, then having a kettle can be an essential appliance in your kitchen. Sure, they serve a purpose - to boil your water - but there's no reason why they can't look great on your counter too.
Glass tea kettles are becoming increasingly popular, and with good reason too. They're attractive, stylish, and they go with any color scheme. Not only that, but they also have a number of benefits compared to other types of tea kettle. 
If you're looking to buy one for yourself, you'll want to know what is the best glass tea kettle and what you should look for when purchasing one. 
Find out everything you need to know about glass tea kettles with Red Rose Tea.
What is a glass tea kettle?
A glass tea kettle is a type of kettle made from glass. There are several varieties of glass tea kettles you can buy, including:
Electric glass tea kettle
An electric glass tea kettle is a fast and effective way to boil water for your tea. They come in a range of styles, including those that are a glass/stainless steel hybrid. Electric glass tea kettles heat water in just a couple of minutes, ideal if you're making a lot of tea or you need tea in a hurry.
Stove top glass tea kettle
A stove top glass tea kettle is a great addition to your kitchen. Simple to use, you can enjoy hot water for your tea quickly without having to worry about power outlets. Glass stove top tea kettles look great with any kitchen style. 
Glass tea kettle with infuser
Do you enjoy loose-leaf tea or a flavor infusion? Then a glass tea kettle could be just the ticket. Allowing you to boil your water while infusing your tea, it's a fantastic way to experience your favorite beverages.
Glass tea kettles are a stylish, effective alternative to other types of kettle, a wonderful way to enjoy your tea. If you've never tried one before, a glass kettle could be just what you need to change the way you drink your tea.
What are the benefits of a glass tea kettle?
Why would you choose a glass tea kettle over another type of kettle? There are a lot of benefits that come with a glass tea kettle, including:
They don't rust
Unlike other types of material, glass is one you can rely on not to corrode. Glass kettles don't rust, meaning it could last a lot longer than a mettle kettle would. With glass kettles, you can feel confident that you won't have to deal with rust after months of use. 
Easy to keep clean
Glass is simple to keep clean, and with a glass kettle, you won't have to work too hard to keep yours in great shape. All it takes to clean a glass kettle is a good washcloth - microfiber is great for this. As you'll always be able to see the dirt inside and outside, you'll easily be able to maintain the look of your kettle.
Easy to see how much water is left
A glass kettle lets you see everything. As a good way to monitor how much water is left, you won't have to take chances or make unnecessary trips to the sink. You'll even be able to watch the water boil, so you'll know when it's at the perfect temperature for your tea.
Attractive design
Glass kettles have a stylish, chic design that makes them a modern and attractive addition to any home. Not only do they suit a range of decor styles, but you can be sure that it'll fit in with your home's colors too. With a lot of matching accessories available, including tea and coffee glasses, saucers and more, your glass kettle can add a touch of style to your kitchen.
No strange taste or odors
With a glass kettle, you don't have to worry about taste. Some kettles may leave a strange taste or odor to your drink, especially if your kettle has limescale or has started to rust. Glass kettles are designed to help you enjoy your beverage exactly how you want it, leaving no strange taste that will affect your enjoyment. For the pure taste of your favorite tea, you can rely on a glass kettle to help you achieve it.
They're hygienic
The smooth texture of glass makes it very easy to keep clean. As a result, glass kettles can be more hygienic, a non-porous material that won't have bacteria lurking. Provided you take good care of your glass kettle, it can be a very hygienic alternative to your typical kettle.
Are glass tea kettles safe?
If you're wondering if glass tea kettles are safe, then you'll feel reassured that they are. Glass kettles are sturdy, strong and their weight means they won't tip over easy. Many glass kettles have a heat-proof handle made of a different material to help keep you safe when handling it after it has boiled. 
One thing to be mindful of is that glass kettles are breakable. If you drop one, there is a risk it could shatter. You should always be careful when handling any type of kettle, but dropping a glass tea kettle comes with a risk of the glass breaking, as well as hot water scalding you. Young children should be kept away from both glass and other types of kettles to make sure they are kept safe from harm.
If you're unsure about handling a glass kettle, you can always wear oven gloves or use something heat-proof to handle the kettle.
How to clean a glass tea kettle
There are several ways you can keep your glass tea kettle clean. You won't have to buy a special type of cleaning product - there are a lot of products you can use that can be found in your home already. Some of the most effective methods include:
Hot water
Using hot water is an effective way of cleaning glass. It can help get rid of a lot of stains and can get rid of some bacteria too. 
Dish soap
Dish soap is another effective product for cleaning glass. If the outside of your kettle has grease stains or other type of stains, some dish soap can make light work of getting rid of them. Soak your kettle in a sink or bowl with dish soap solution, leave to work and then rinse thoroughly.
Vinegar 
Vinegar is something most people have in their homes, not realizing how effective it can be as a cleaning aid. You can use a 50/50 ratio of vinegar to water to fill your kettle. Leave it to sit to work its magic, then rinse out the solution. You need to make sure you rinse the vinegar out thoroughly so that it doesn't taint the taste of your water.
A microfiber cloth should help you clean the inside of the kettle to leave it sparkling clean.
Lemon juice
Like vinegar, lemon juice can also be an effective ingredient for cleaning your kettle. Squeeze a couple of lemons into the kettle with some fresh water and leave to boil. This should get rid of any limescale or other stains in the kettle. Leave it to cool and then rinse thoroughly. You can wipe away any stains with a microfiber cloth.
Keeping it dust-free
If your glass kettle is always left out on display, you'll soon find that it's a magnet for dust! Using a duster or a microfiber cloth regularly will help keep it free from dust, making sure it looks good in your kitchen. You can also use a glass cleaning cloth to get rid of any smears or finger marks that might have found their way onto your kettle.
With a lot of different methods for keeping your glass kettle clean, you won't have to worry about maintaining its appearance. No chemicals are required, and a regular clean will help to keep your kettle looking shiny and new.
Can you put a glass tea kettle on the stove?
There are glass tea kettles designed to be used on the stove. You should make sure that the kettle you buy is suitable for the type of stove that you have - different models may be suitable for electric or gas stoves. Choose a stove top kettle that's designed to be used on the stove to make sure you don't accidentally damage the kettle. 
When using a glass kettle on a stove you should never leave it unattended. You should also make sure that it is out of reach of children and pets. A glass kettle will get very hot, very quickly, and will need handling with care. The best glass tea kettles will have a handle that will make it easier and safer to pick up. Use gloves if necessary to protect your hands. 
As glass kettles can be heavy, you should also make sure that you don't fill it all the way to make sure you can handle it safely. If you need to take the kettle off the stove, make sure you transfer it to a heatproof surface to stop it from causing damage to your surfaces. 
Are glass kettles better than stainless steel?
As already discussed, there are a lot of benefits to choosing a glass kettle. They're attractive, easy to keep clean, and they can help you make great tea. But are they better than stainless steel kettles? 
Stainless steel kettles are common and popular. They are strong and effective, and they heat up water quickly, helping to retain the heat after the water has boiled. They're affordable to buy, and are designed to last a long time. If you choose a double-walled model, you can also benefit from the exterior remaining cool to touch, which will make it much easier to handle, even with hot water inside.
You can buy stainless steel kettles in a range of sizes as well as different types of appliance, including portable and travel models. They are widely available and come in a range of style options to suit your home. 
There are pros and cons to choosing both glass tea kettles and stainless steel ones. A lot of it depends on your personal preference and what kind of style you prefer. A stainless steel kettle may be a more traditional choice, but a glass tea kettle makes a unique and on-trend kitchen appliance - ideal for any tea lover.
What to look for when buying a stove top tea kettle? 
If you're looking for the best stove top glass tea kettle, there are a few things you should consider:
Size
The size of your stove top glass tea kettle is important. If you live alone or there aren't many people drinking tea in your home, you might want to consider getting a smaller kettle. 
Remember that the larger the kettle is, the heavier it is going to be to lift. Filling it part way is one way to keep it manageable. 
Does it have heatproof features?
Your kettle should be safe for you to handle. You should check for a heatproof handle, to help you pick it up, or you can choose to use gloves instead. Safety is very important when handling any kind of hot appliance, so make sure you take precautions.
Does it whistle?
A glass kettle with a whistle will help you know when your water is boiled to the perfect temperature. While you can see what's happening inside a glass kettle, having that reminder is good to make sure you don't boil the water for so long that it all begins to evaporate! With a whistling feature, you'll always know when your water is ready.
Does it have an infuser?
If you like loose-leaf tea, or you want to make your tea with as it's boiling, then a built-in infuser can help you enjoy the perfect cup. By the time your kettle has boiled, you'll have a richly flavored tea ready to drink as you like it.
An infuser can also be handy for brewing a flavored iced tea - ideal for those long summer days when you might need some refreshment. 
Price
A tea kettle is a must for any tea drinker, but you should consider your budget when shopping for one. A glass kettle can be more expensive than a regular stainless steel kettle, but as they are less prone to rust and are easier to keep clean, you could find that it's an investment worth making for the long term.
What is the best stove top tea kettle?
Should you go with glass, stainless steel or another type of stove top kettle? On the surface, each type does the same job - it heats the water for your tea. But there are many reasons why you might prefer one type of kettle over another - it's down to your own preference. 
Many people choose stainless steel kettles because they're familiar, but that doesn't mean you should disregard a glass tea kettle. Many people prefer a glass kettle because it provides a superior, purer taste, and could be a refreshing upgrade to your current kettle.
A glass kettle looks great, it's hygienic, and it's easy to keep clean. If you haven't tried one before, the best glass tea kettle could make a big difference to your tea drinking experience, helping you fall even more in love with tea!
Your glass tea kettle and Red Rose Tea - the perfect pairing!
If you're looking for the perfect way to enjoy Red Rose Tea, you can't go wrong with a glass tea kettle. With so many varieties of Red Rose Tea, you can have fun brewing your perfect combination with your new glass kettle. Why not give some of the following flavors a try?
Enjoy

Sweet Temptations

for a guilt-free hit of something sweet. With incredible flavors like Lemon Cake and Strawberry Cheesecake, it's the perfect tea to help you satisfy your sweet craving.

Fruit flavored herbal teas are a fantastic alternative for those who don't like a more traditional tea. You can try

herbal tea

varieties like Ginger Lemon and Turmeric Orange to help provide some daily comfort and a wonderful taste. Our herbal teas are decaf, so you can enjoy them at any time of day!

Want to enjoy a more traditional taste? Enjoy our popular

Original Blend

the way it should taste with the help of a glass tea kettle.
With a lot of different flavors to explore, you can have a lot of fun with your glass tea kettle. You can even try using it to create refreshing iced teas for the warmer months - a zero-calorie thirst-quencher.
Check out our full selection of Red Rose Tea to see all of the incredible flavors we have to use with your new glass tea kettle. Enjoy the perfect cup of tea with this match made in heaven.