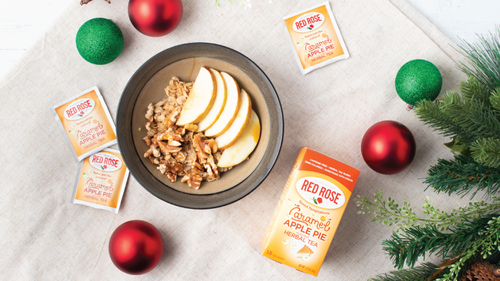 Caramel Apple Oatmeal
We're whipping up this Caramel Apple Oatmeal recipe from our friend, Jane Freehauf just in time for breakfast. This easy and flavorful recipe is the perfect way to spice up your plain old oatmeal breakfast and keep you energized all day long. Get the easy step-by-step below.
Makes 2 servings
Ingredients:
1 Red Rose Caramel Apple tea bag
1 cup Old Fashioned Oats
1 3/4 cups water
1 small apple
1/4 teaspoon cinnamon
1/4 teaspoon salt
Optional toppings: cream, chopped nuts, maple syrup, caramel topping, sliced apples
Instructions:
Add water and teabag to saucepan (no heat yet)
Peel, core and chop apple into small pieces.
Add apples to saucepan and bring to a boil.
Remove teabag.
Stir in salt and oats.
When mixture begins to boil, reduce heat to simmer for 4-5 minutes.
Remove from heat and stir in cinnamon.
Add any (or all!) toppings and serve.
If you're interested in sharing your Red Rose inspired recipe, please send us an email at info@redrosetea.com.