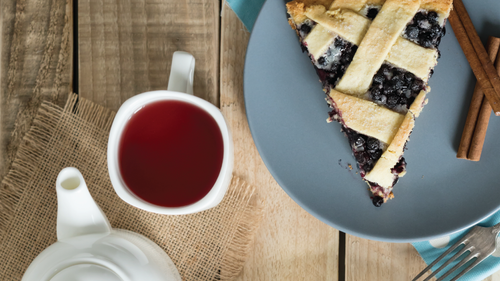 Earl Grey Blueberry Pie
We're so excited to share this delicious pie recipe with you today! Pie is a holiday dessert staple. Slice after slice, pie feeds the belly and is full of love. 
Leave it to us at Red Rose to share with you a pie that you can make by using our Earl Grey tea bags. YUM! Let's get to our Earl Grey Blueberry Pie recipe!
Prep Time: 15 minutes 
Cook Time: 1 hour 
Serving Size: 8
 Ingredients
1 1/4 cup white sugar
6 tablespoons cornstarch
¼ teaspoon salt
½ teaspoon ground cinnamon
2 tablespoons of lemon juice 
2 1/2 tablespoons finely ground earl grey tea
5 cups fresh blueberries
1 recipe pastry for a 9 inch double crust pie
1 tablespoon butter
Directions
Preheat oven to 400 degrees F.
Mix sugar, cornstarch, salt, cinnamon, finely ground earl grey tea, lemon juice and sprinkle over blueberries.
Line pie dish with one pie crust. Pour blueberry mixture into the crust, and dot with butter. Cut remaining pastry into 1/2 - 3/4 inch wide strips, and make lattice top. Crimp and flute edges.
Bake pie on middle rack of oven for about 50 minutes, or until crust is golden brown. Allow pie to cool for at least 1 hour. 
We hope that your holidays are full of love, family fun, and lots of pie! Happy Thanksgiving!