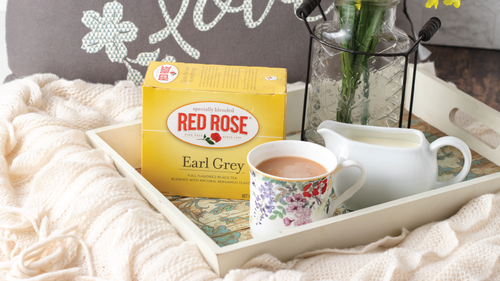 Earl Grey Tea Latte
Using our traditional Earl Grey Tea, our earl grey tea latte is made with milk, sweetened with sugar and cinnamon. It's creamy, comforting and flavorful. This simple yet tasty recipe can be in the comfort of your own home. 
 Ingredients:
2 Red Rose Earl Grey tea bags
¾ cup of boiling water
½ cup milk of your choosing
1 tsp sweetener of your choosing
Dash of cinnamon
 Instructions:
Place tea bags in a microwave-safe mug, add ¾ cup of boiling water and cover. Steep for 5 minutes.
Remove and discard tea bags.
Add milk of your choosing to a small saucepan over medium heat. Heat until just steaming (do not boil).
Mix steamed milk and tea, add sweetener of choosing. Top with a dash of cinnamon and enjoy!