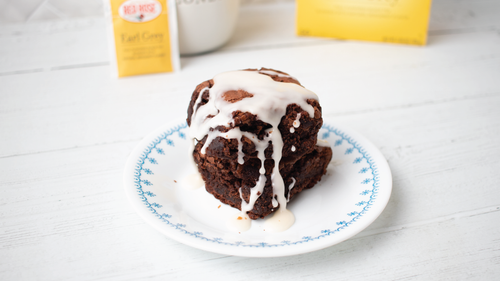 Earl Grey Drizzle
Who doesn't love a sweet and chocolatey brownie? Our classic brownie recipe is easy to pull together, but our secret ingredient is our Earl Grey drizzle! Our Earl Grey drizzle is a mix of confectioner's sugar and our classic Red Rose Earl Grey Tea. Whisk both ingredients together and in an instant you have a creamy, fragrant drizzle with just a hint of citrusy bergamot flavor. Perfect for teatime or anytime you need a a tea and chocolate fix. 
These brownies pair well with all your favorite Red Rose Tea blends!
Yields 16 brownies
Ingredients:
1/2 cup of butter
1 cup of white sugar
2 eggs
1 tsp vanilla extract
1/3 cup unsweetened cocoa powder
1/2 cup all-purpose flour
1/4 tsp salt
1/4 tsp baking powder
 Drizzle Ingredients:
2 cups confectioners' sugar
1/4 cup brewed Earl Grey tea
Instructions:
Preheat oven to 350 degrees F. Grease and flour an 8-inch square pan.
In a large saucepan, melt butter. Remove from heat, and stir in sugar, eggs, and vanilla extract. Beat in cocoa powder, flour, salt, and baking powder. Spread batter into prepared pan.
Bake in preheated oven for 25 to 30 minutes. Do not overcook.
To make the Earl Grey Drizzle: Whisk together the confectioners' sugar and brewed tea. Once cooled, drizzle this mixture over the brownies. Serve and enjoy with loved ones.