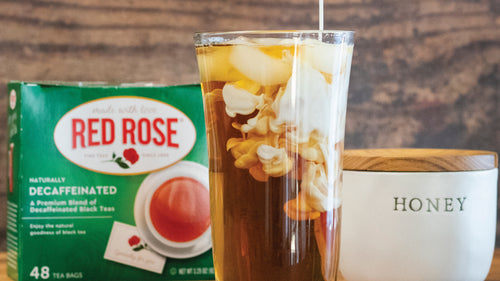 The Perfect Iced Tea Latte
This decaffeinated iced tea latte is deliciously creamy and could not be any easier to make. Try it today and share with the family! 
Serving: 1 latte
Preparation Time: 5 minutes 
Ingredients:
1 Red Rose Decaffeinated Black Tea Bag 
1 tablespoon of honey 
1 tablespoon of coconut creamer or milk
Instructions:
In a mug, steep tea bag in 6 ounces of boiling fresh water for 3 to 5 minutes.
Remove tea bag and allow tea to cool for 30 minutes. 
Stir in honey and coconut creamer or milk. Pour into a talk glass with ice and enjoy!