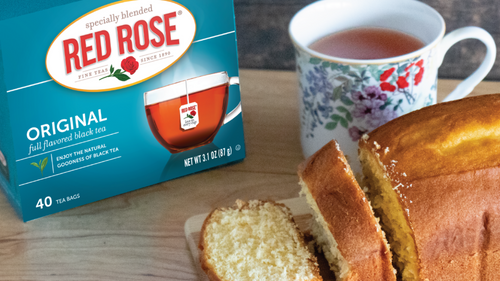 Black Tea Bread
That sweet feeling when your tea and your dessert coexist! Our Black Tea Original makes the perfect sweet treat! 
Prep Time: 30 minutes
Cook Time: 1 hour
Serving Size: 1 loaf
Ingredients:
1 cup milk
3 Red Rose Original Black Tea Bags
1 3/4 cups all- purpose flour
1 1/2 teaspoons baking powder
1 teaspoon baking soda
1 1/2 teaspoons ground cinnamon
1/2 teaspoon salt
1/4 cup butter room temperature
1/3 cup Truvia
1 ripe banana 
1/4 cup light olive oil
1 teaspoon vanilla extract
Instructions:
Preheat oven to 350º F. Grease a 9 x 5-inch pan.
On the stove heat the milk until near boiling. Cut open the tea bags and add the tea into the milk. Allow to cool. Strain through a sieve, discard solids, and reserve milk.
In a large bowl, mix together flour, baking powder, baking soda, cinnamon, and salt. Set aside.
Cream together, with an electric mixer, the butter and sugar until light and fluffy. Add the banana and mix to incorporated. Beat in the oil and vanilla extract. Gradually add the flour mixture. Stir in the tea brewed milk, mixing until batter is uniform and smooth. Spread batter evenly into prepared pan. If desired, sprinkle with the rolled oats and sugar.
Bake for 60 minutes, or until a toothpick inserted into the center comes out clean.
Allow to cool before cutting and serving.