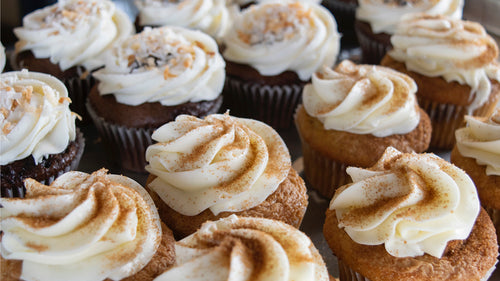 Black Tea Cupcakes
Our Black Tea Cupcakes made with our Original Black Tea make the perfect sweet treat!
Prep Time: 30 minutes
Cook Time: 1.5 hours
Serving Size: about 2 dozen cupcakes 
Ingredients:
1/2 cup hot milk
3 Red Rose Original Black Tea Bags
2 eggs  
1 teaspoon vanilla extract⠀
1 1/2 cups cake flour
3/4 cup sugar
1 1/2 teaspoons baking powder
1/4 teaspoon salt
1/2 cup unsalted butter
Instructions: 
Preheat oven to 350 degrees.
In a medium bowl, steep the tea bags in the hot milk for at least 10 minutes.
Once cooled, whisk in the eggs and vanilla until combined.
In a large bowl combine the flour, sugar, baking powder, salt and butter. Use mixer and beat until well combined.
Reduce mixer speed and add half of the milk mixture. Mix until just combined. Repeat with the remaining milk mixture.
Bake for 18 minutes, or until the edges are light golden brown.
Cool before frosting.