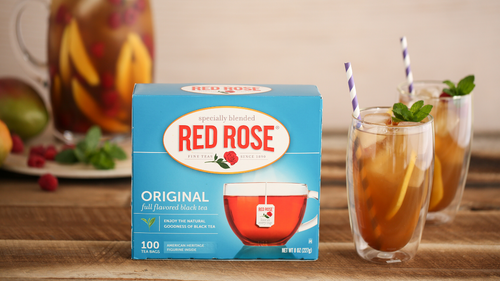 It Takes Two to Mango Iced Tea
Nothing tastes better on a hot summer day than a glass of Mango Iced Tea. Our fruit flavored iced tea is an easy to make recipe that the entire family will enjoy!
Makes 6 servings.  
Ingredients:
4 Red Rose Original Tea Bags
1 quart water
1 cup mango nectar or juice
1 1/2 cups fresh mango slices
2 cups raspberries
Honey to taste (optional)
Fresh mint for garnish (optional)
Instructions: 
Add water to tea kettle and bring to a boil.
Turn off the water and add the four Red Rose tea bags to the tea kettle.
Steep for 5 minutes; remove steeped tea bags
Stir in mango nectar or juice
Add honey to taste (optional)
Pour tea into a pitcher
Add the mango slices to the pitcher, saving a few to garnish
Chill tea in the refrigerator for at least an hour
Stir in raspberries, pour into glasses with ice, and garnish with remaining fruit and mint and enjoy!