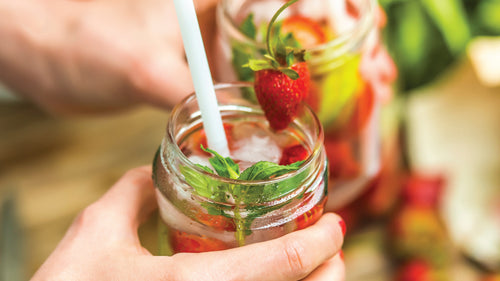 Strawberry Basil Iced Tea
Fresh strawberries and a touch of basil makes our Strawberry Basil Iced Tea recipe the perfect end of summer drink! Raise a glass with your friends and enjoy the warm weather with good company and great drinks!
Makes 6 servings. 
Ingredients:
4 cups of brewed Red Rose tea
4 cups of ice
10 strawberries (thinly sliced)
15 basil leaves (fresh)
2 tbsp. of sugar
Instructions: 
Add water to tea kettle and bring to boil.
Turn off the water and add the four Red Rose tea bags to the tea kettle.
Steep for 15 minutes.
While tea is steeping, add sliced strawberries, basil leaves and sugar in the bottom of a pitcher and stir roughly to mash up the strawberries and release basil flavor.
Add ice to pitcher and stir.
Remove the tea bags and pour tea over ice.
Garnish with a strawberry and/or sprig of basil (optional).