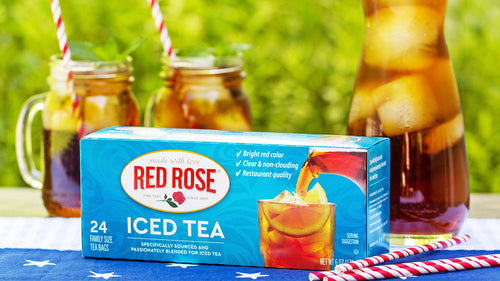 Fresh Brewed Iced Tea Recipe
Summer isn't truly complete without a fresh cup of iced tea. Check out our go-to way to prepare the perfect glass! 
Makes 6 servings. 
Ingredients:
1 Red Rose Family Size Tea Bag
1 medium size oranges
3 lemons
1-quart of water
Instructions:
Add water to tea kettle and bring to a boil.
Turn off the water and add family size tea bag to the tea kettle.
Steep for 5 minutes.
While steeping, cut the oranges and lemons into slices.
Remove the tea bags and let tea cool.
When tea is cool enough, pour into a pitcher over ice.
Add the orange and lemon slices to the pitcher.
Stir and enjoy!