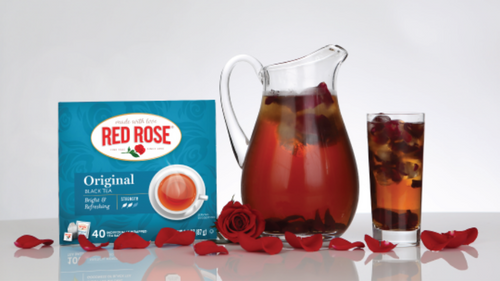 Rose Petal Iced Tea Infusion
This is a sweet infusion with nothing more than rose petals and our bright and refreshing black tea. Perfect for any summer afternoon. Our Rose Petal Iced Tea Infusion has a light floral taste with a slightly tangy flavor.

Ingredients:
Fresh rose petals (for ice cubes)
4 Original Black Tea bags
2 tsp. dried rose petals (or rose hips)
4 cups water
Instructions: 
Rose Petal Ice Cubes
This one's simple! Just fill an ice cube tray with water and place one rose petal into each ice cube section. Then put the ice cube tray in freezer and allow the cubes to freeze. 
Rose Petal Iced Tea Infusion Heat
Bring cold water to a gentle boil. For the best taste results, we recommend boiling water in a kettle (not a microwave) and using purified or spring water.
Pour the water into a pitcher and add the Red Rose Original tea bags and dried rose petals.
Brew for 3 to 5 minutes, depending on your taste. For a stronger cup, try adding another bag. 
Remove the tea bags and let tea cool completely. You may also drain out the dried rose petals if you prefer.
Drop in the rose petal ice cubes, add lemon, sweetener, or other flavors if desired, and enjoy!