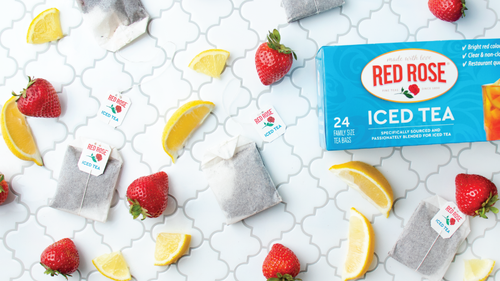 Strawberry Iced Tea
Sweet strawberry summertime. You can't buy this deliciously fresh drink at the store. This homemade mixture of flavor is super simple and will be a crowd pleaser every time! Your family and friends will never believe how easy this is to make... don't worry your secret is safe with us!
Ingredients:
2 Family Size Red Rose Tea Bags
1-pint of fresh strawberries
6 cups water
1 tbsp lemon juice
1 cup sugar
Instructions:
Boil two cups of water and steep family size tea bags for 5-10 minutes.
Puree strawberries in a blender (reserve a handful of strawberries for garnish).
Pour strawberry mixture through a mesh strainer into a pitcher filled with ice.
Add the sugar to the steeped tea and stir until dissolved.
Add four cups of cold water and the two cups of steeped tea to pitcher.
Stir to mix and enjoy!