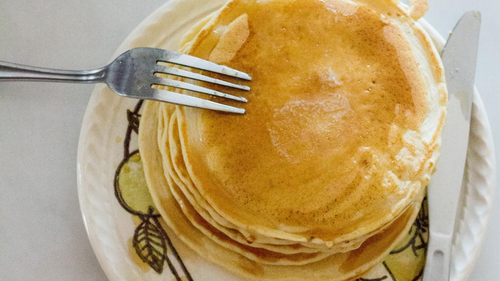 Earl Grey Pancakes
Pancakes are delicious, sweet and a family favorite! Our recipe is infused with Earl Grey Tea and offers a cozy twist on a classic breakfast meal or even dessert topped with whipped cream and fresh fruit.
Ingredients:
2 Red Rose Early Grey Tea Bags
1 Egg
1 cup all-purpose flour
1 cup milk
¾ cup sugar
1 tsp baking powder
½ tsp vanilla extract
Instructions:
In a pot, bring milk and 1 tea bag to a simmer for 5-10 minutes. Once infused, remove from the heat and let it cool. Remove the teabag when the mixture is cool.
Mix together the dry ingredients - flour, baking powder, sugar and some of the tea leaves from the second teabag.
Whisk the egg and vanilla extract into the cooled milk.
Add the wet ingredients into the bowl of dry ingredients, stir till smooth.
Heat up a frying pan at medium-low heat and coat the pan with some butter or cooking spray. Drop about 1-2 tablespoons of mixture into the pan at a time. Wait for 2-3 minutes before flipping.
Serve with your choice of topping!