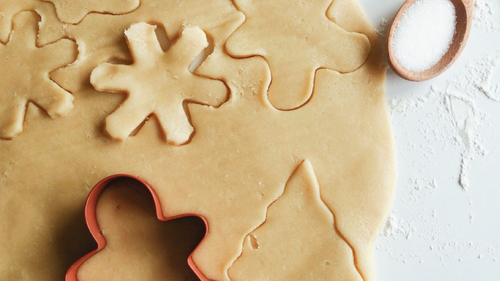 Holiday Cookie Recipes
Tis the season for Christmas cookies! As we enter the peak season for cookie baking, we've asked our Red Rose Family to share their favorite recipes. These recipes are sweet, tasty, and baked with a lot of love. Check them out below and maybe you'll find new favorites to add to your holiday cookie trays this year.
Special thanks to our Red Rose Family for sharing their cookie recipes with us!
---
Chewey Good Oatmeal Cookies
By: Edna Watts
Ingredients:
1 cup softened butter
1 cup packed brown sugar
2 eggs
½ cup white sugar
1 tbsp honey
2 tsp vanilla
2 ½ cups quick cooking oats
1 ½ cup all-purpose flour
½ tsp salt
1 tsp baking soda
½ tsp ground cinnamon
1 1/3 cup dried cherries or craisens
1 cup white baking chips
½ cup chopped nuts
Instructions:
Preheat oven 350 degrees.
In large bowl cream butter and sugars until light and fluffy.
Beat in eggs, honey and vanilla.
Blend all dry ingredients and gradually add to creamed mixture.
Drop by rounded tablespoonfuls 2" apart onto greased baking sheet.
Bake 10 – 12 min or until golden brown.
Cool on pan 2 minutes, remove to wire racks to cool.
Store in air-tight container after cool.
---
Gingersnaps
By: Beth Creegan
Ingredients:
2 cups flour
1/2 tsp salt
1 tsp cloves
1 tsp cinnamon
1 tsp ginger
3 tbsp baking powder
3/4 cup margarine melted
1 cup sugar
1 egg slightly beaten
1/4 cup light molasses
Instructions:
Preheat oven 350 degrees.
Sift flour, salt, spices, and baking powder together.
Cream margarine until light and fluffy then gradually add sugar and blend in egg and molasses. Then add flour mixture.
Shape dough into small balls and roll in sugar.
Bake for 8 to 10 minutes on ungreased cookie sheets.
Let stand for 2 minutes before removing from the cookie sheets.
---
Best Oatmeal Cookies (From: 5/19/1955 Betty Crocker Cookbook, pg. 195)]
By: Scott Root
Ingredients:
1 cup Crisco
1-1/2 cups sugar
2 eggs
½ cup milk
1-3/4 cups flour
½ tsp salt
1 tsp baking powder
1 tsp baking soda
1 tbsp vinegar
1 tsp cinnamon
2 cups Quaker Oats
1 cup chopped walnuts (optional)
½ cup raisins or other dried fruit
Instructions:
Preheat oven to 400 degrees.
Mix Crisco, sugar, and eggs together in large bowl.
In a separate bowl mix vinegar and milk to make ½ cup and then add to mix.
Stir in dry ingredients then add oats and nuts.
Add dried fruit or chips if desired.
Drop by rounded tablespoons full to ungreased cookie sheet.
Bake 8 to 10 minutes.
Cookies are crisp after baking, get soft and moist after storing with slice of bread.
We hope you and your family have a wonderful Holiday Season.