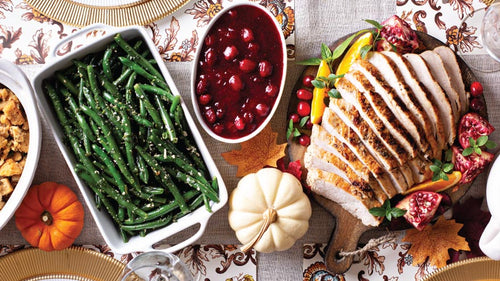 Traditional Thanksgiving Menu
Due to the pandemic you might be hosting Thanksgiving for the first time this year. Wondering how to put together a traditional Thanksgiving menu? Red Rose is here to help! 
Appetizer: Spinach and Artichoke Dip 
This easy dip pairs well with your favorite tortilla chips and toasted bread. It's a warm and delicious way to get your Thanksgiving festivities started. Here's a recipe by The Food Network. 
Ingredients: 
1 cup of thawed, chopped frozen spinach 
1 1/2 cup thawed, chopped frozen artichoke hearts 
6 ounces cream cheese 
1/4 cup of sour cream 
1/4 cup of mayonnaise 
1/3 cup of grated Parmesan cheese
1/2 tsp red pepper flakes 
1/4 tsp salt 
1/4 tsp garlic powder 
Directions: 
Boil spinach and artichokes in 1 cup of water until tender. Drain and discard liquid. 
Heat cream cheese in microwave for 1 minute or until hot and soft. 
Stir in remainder of ingredients. 
Serve hot with your favorite tortilla chips or toasted bread. 
---
Main Course: Turkey 
This roast turkey recipe from Tastes Better From Scratch is a holiday staple! It's easy to prepare and it's sure to impress your loved ones.
Ingredients: 
1 12-20 pound turkey
1 onion , peeled and quartered
1 lemon , quartered
1 apple, quartered
1 tsp. of rosemary
1 tsp. of thyme
1 tsp. of sage
Instructions: 
If the turkey is frozen: Thaw in the fridge, 24 hours for every 5 pounds of Turkey. I like to give myself 1 extra day, just to be safe.
Remove the thawed turkey from the fridge 1 hour before roasting, to let it come to room temperature.
Adjust your oven rack so the turkey will sit in the center of the oven. Preheat oven to 325 degrees F.
Make the herb butter by combining room temperature butter, minced garlic, salt, pepper, one tablespoon fresh chopped rosemary, one tablespoon fresh chopped thyme, and half a tablespoon of fresh chopped sage. (You'll use the remaining fresh herbs for stuffing inside the cavity of the turkey)
Remove turkey from packaging and remove the neck and giblets from the inside the cavities of the bird. (Reserve them for gravy, if you want, or discard them). Pat the turkey very dry with paper towels.
Season the cavity of the turkey with salt and pepper. Stuff it with the quartered lemon, onion and apple and leftover herbs.
Use your fingers to loosen and lift the skin above the breasts (on the top of the turkey) and smooth a few tablespoons of the herb butter underneath.
Tuck the wings of the turkey underneath the turkey and set the turkey on a roasting rack inside a roasting pan.
Microwave the remaining herb butter mixture for 30 seconds (it doesn't need to be completely melted--just really softened). Use a basting brush to brush the remaining herb butter all over the outside of the turkey, legs and wings.
Roast at 325 degrees F for about 13-15 minutes per pound, or until internal temperature (inserted on middle of thigh and breast) reaches about 165 degrees.
Check the turkey about halfway through cooking, and once the skin gets golden brown, cover the top of the turkey with tinfoil, to protect the breast meat from overcooking. Alternately, you could start cooking the turkey with it tented in foil, then during the last hour or so of cooking you can take the foil off to let the turkey brown.
Allow turkey to rest for 20-30 minutes before carving.
---
Side Dish: Green Bean Casserole 
This creamy, rich and easy recipe from Campbell's is your go-to side dish this Thanksgiving.
Ingredients: 
1 can of Cream of Mushroom Soup 
1/2 cup of milk 
1 tsp of soy sauce 
4 cups cooked green beans 
1 1/3 cups of Friend Onions 
Instructions: 
Stir soup, milk, soy sauce, black pepper, green beans and 2/3 cup of friends inions in a casserole dish. 
Bake at 350 degrees for 25 minutes or until the mixture is hot and bubbling. 
Stir and sprinkle with remaining friend onions. Bake for an additional 5 minutes 
---
Side Dish: Garlic Mashed Potatoes 
Our favorite side dish! This recipe from Taste Of Home makes the best mashed potatoes for Thanksgiving or any holiday in between. 
Ingredients:
8 medium potatoes, quartered 
3 garlic cloves, peeled and chopped 
2 tbsp. of butter 
1/2 cup of milk 
1/2 tsp. salt 
1/4 cup of Parmesan cheese 
Instructions: 
Place potatoes and garlic in a large saucepan; cover with water. Bring to a boil. Reduce heat; cover and simmer for 15-20 minutes or until potatoes are tender. 
Drain well. Add the butter, milk and salt. Mash and stir in cheese. 
---
Side Dish: Cranberry Sauce 
Whether from the can or homemade, cranberry sauce is a staple for your Thanksgiving dinner. Here's a recipe from Delish.com. 
Ingredients:
1 cup of sugar 
1 cup of water 
1 (12oz.) package fresh cranberries 
2 tsp. orange zest 
salt 
Instructions: 
In a small saucepan over low heat, combine sugar and water until sugar dissolves. Add cranberries and cook until they burst, about 10 minutes. Stir in orange zest and pinch of salt. 
Remove from saucepan from heat and let cool completely. Transfer to container and refrigerate.
---
Beverage: Red Rose Iced Tea 
Don't forget about Red Rose! A pitcher of our classic iced tea is what completes the meal! Our family size tea bags make the most deliciously iced tea that will help make your Thanksgiving dinner a satisfying one! Check out our classic recipe. 
Ingredients:
1 Red Rose Family Size Tea Bag
1-quart of water
Instructions:
Add water to tea kettle and bring to a boil.
Turn off the water and add family size tea bag to the tea kettle.
Steep for 5 minutes.
Remove the tea bags and let tea cool.
When tea is cool enough, pour into a pitcher over ice.
Stir and enjoy!
---
Dessert: Pumpkin Roll 
Last but not least! A dessert staple for Thanksgiving is Pumpkin Roll! This sweet and easy recipe brings your traditional Thanksgiving menu full circle. Here's an tasty recipe from All Recipes.
Ingredients: 
3 large eggs
1 cup of white sugar 
1/2 tsp. ground cinnamon 
2/3 cup of pumpkin puree 
3/4 cup of all-purpose flour 
1 tsp. baking soda 
2 tbsp. butter, softened 
8 ounces of cream cheese 
1 cup of confectioners' sugar 
1/4 tsp. of vanilla extract 
Confectioners' sugar for dusting 
Directions: 
Preheat oven to 375 degrees. Butter or grease one 10x15 inch jelly roll pan.
In a mixing bowl, blend together the eggs, sugar, cinnamon, and pumpkin. In a separate bowl, mix together flour and baking soda. Add to pumpkin mixture and blend until smooth. Evenly spread the mixture over the prepared jelly roll pan.
Bake 15 to 25 minutes in the preheated oven. Remove from oven and allow to cool enough to handle.
Remove cake from pan and place on tea towel (cotton, not terry cloth). Roll up the cake by rolling a towel inside cake and place seam side down to cool.
Prepare the frosting by blending together the butter, cream cheese, confectioners sugar, and vanilla.
When cake is completely cooled, unroll and spread with cream cheese filling. Roll up again without towel. Wrap with plastic wrap and refrigerate until ready to serve. Sprinkle top with confectioners sugar and slice into 8 to 10 portions.