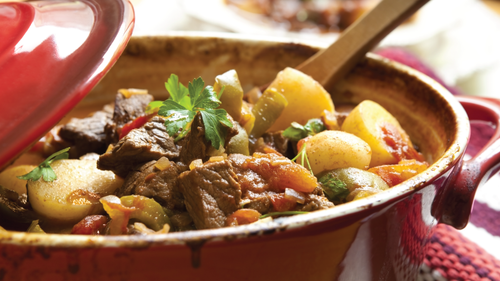 Easy Slow Cooker Recipes
Fall days call for your favorite comfort food. Fill your slow cooker with these soul-warming recipes. All these recipes are easy to make and family favorites!
---
Beef Stew
This easy beef stew recipe is perfect for a weeknight.
Ingredients:
1/4 cup flour
1/2 tsp. salt & pepper
1 lb. beef stew meat
2 tbsp. olive oil
1 32-oz. carton beef broth
1 yellow onion cut into strips
2 cups carrots
1 lb. of potatoes, diced
1 14.5-oz. can diced tomatoes
1 tsp. dried thyme
Salt and pepper to taste
 Instructions:
Toss flour, salt, pepper and beef in large bowl until beef is coated.
Heat 1 tbsp. of olive oil in a large pan, add beef mixture; cook and stir until mostly browned.
Stir in any remaining flour from the bowl and then transfer the beef to the slow cooker.
Add the remaining olive oil and the onion to the pan. Cook the onion, stirring occasionally, until softened.
Pour about ½ cup of the beef broth into the pan and scrape up any browned bits from the bottom of the pan. Transfer the contents of the pan to the slow cooker.
Add the remaining ingredients, including the rest of the broth, to the slow cooker. Stir gently to combine.
Cover and cook on low for 7-8 hours or until the vegetables and meat are tender and cooked through.
Taste and season with salt and pepper. Enjoy!
---
Chicken Pot Pie
Mouthwatering chicken and mixed veggies in a creamy sauce topped with your favorite biscuits.
Ingredients:
3 skinless boneless chicken breasts diced
2 cups frozen mixed vegetables
2 cans cream of chicken soup
1 cup chicken broth
1 large onion diced
1 large potato peeled and diced
1 tbsp. fresh parsley
½ tsp. Italian seasoning
Salt and pepper to taste
8 biscuits (homemade or refrigerated/bake as directed)
 Instructions:
Add diced chicken, onion, and potato to slow cooker.
Combine cream of chicken soup, chicken broth and seasonings. Add mixture to slow cooker and cook on high for 4 hours.
Add mixed vegetables and cook on low for 1 hour more.
Stir pot pie mixture, spoon into bowls and top with biscuits.
---
Black Bean Soup
The perfect black bean soup recipe! It's healthy and very easy to toss together.
Ingredients:
3 cans black beans, drained and rinsed
4 green onions, chopped
3 cloves garlic, minced
2 ribs celery, chopped
1 red pepper, chopped
2 cups chicken broth
1 tsp. cumin
Juice of 1 lemon
 Instructions:
Combine all ingredients in crockpot.
Cook on low for 6-8 hours.
Mash or puree to your liking.
Stir and enjoy with your favorite bread and crackers!
---
Cinnamon Roll Casserole
It is the perfect dessert to throw together in minutes.
Ingredients:
4 eggs
½ cup of milk
3 tbsp. maple syrup
2 tsp. vanilla
1 tsp. cinnamon
2 cans of cinnamon rolls
Instructions:
Cut each cinnamon roll into quarters and place one can of cinnamon rolls into the crock pot.
In a small bowl whisk together the eggs, milk, syrup, vanilla, and cinnamon.
Pour over the cinnamon rolls in the crock pot. Place the remaining cinnamon rolls on top.
Drizzle one icing packet over the cinnamon rolls.
Place the crock pot lid on top and cook on low for 2 to 2 1/2 hours.
Remove lid and drizzle the last icing packet over the cinnamon rolls.
*Cinnamon Roll Casserole recipe from @eatingonadime