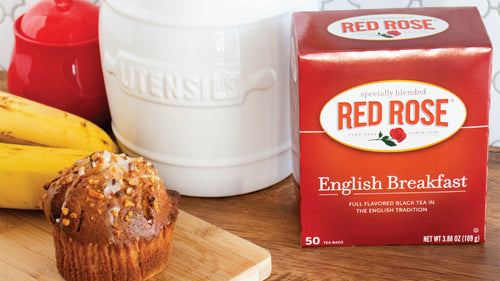 Black Tea Banana Muffins
Bet you didn't know you could put black tea in muffins. Well now you do, and you will likely never look back! Bake our sweet Black Tea Banana Muffins for a sweet morning treat!  
Prep Time: 15 minutes 
Cook Time: 40 minutes 
Serving Size: 2 dozen 
Ingredients:
2 Red Rose English Breakfast Tea Bags (2 tea bags per one cup of tea - add more tea bags if you desire a stronger taste, etc.)
1 cup of white sugar 
1/2 cup of vegetable oil 
1 egg 
3 ripe bananas, mashed 
2 cups all-purpose flour 
1 tsp. baking soda 
1/2 tsp. salt 
1/4 cup chopped walnuts (optional)
Instructions:
Preheat over to 350 degrees. Please muffin cups in muffin tin, or grease with a butter. 
Brew tea according to package. Allow tea to cool completely. 
In a large bowl, mix sugar, oil and egg until creamy. Add brewed tea (only need a 1/2 cup), followed by the mashed bananas. 
Finally, add flour, baking soda, and salt. Stir until completely smooth. 
Spoon batter into the muffin tin. 
Bake for 30-40 minutes, or until toothpick comes out clean.