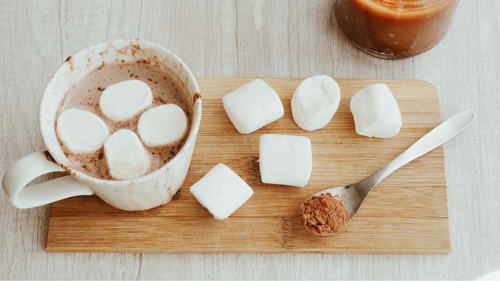 Earl Grey Hot Chocolate
The perfect twist to your favorite cold weather drink! Cozy up with your special someone and share a steaming mug of our Earl Grey Hot Chocolate.
Prep Time: 5 minutes 
Cook Time: 15 minutes 
Serving Size: 2 cups 
Ingredients: 
2 1/2 cups of milk 
1 1/2 cups of cream 
1/2 cup of semi-sweet chocolate chips 
2 tbsp. of sugar 
1/4 tsp. vanilla 
1/8 tsp. sea salt 
Instructions: 
Heat milk and cream over medium heat in a small pot until steaming but not boiling. 
Turn down the heat to low and add the Earl Grey tea bags. Steep the tea in the milk for 10-15 minutes.
Remove tea bags and add chocolate chips, sugar and sea salt. Whisk together until the chocolate chips have melted and the sugar is dissolved.
Serve with your favorite toppings such as marshmallows and enjoy!