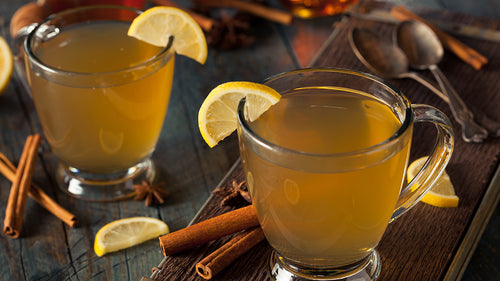 Hot Toddy
Traditionally, this hot drink is made with lemon, honey, and alcohol, with tea and spices as optional ingredients. Some drink it to soothe coughs and colds, while others simply enjoy it as a delicious drink, a way to warm up when the weather outside is cold and grey. Enjoy! 
Prep Time: 5 minutes
Cook Time: 15 minutes
Serving Size: 1 cup  
Ingredients:
1 cup of brewed Irish Breakfast Tea 
1 tbsp. of honey 
2 oz. of Irish Whiskey 
1 lemon wedge 
Instructions: 
Brew Irish Breakfast Tea according to package. 
Stir honey into hot tea. 
Float Irish Whiskey on top of the hot tea. 
Squeeze lemon juice into the mixture or add the lemon wedge right into the drink for a stronger citrus flavor. 
Add cinnamon, star anise, and other spices if preferred.