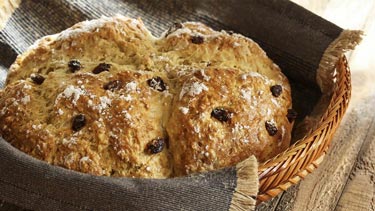 Irish Soda Bread
Our quick and easy Irish Soda Bread recipe is made with flour, baking soda, salt, buttermilk, raisins, an egg, and a touch of sugar. Pair it with a comforting cup of Irish Breakfast Tea and you've got an afternoon sweet treat. Be sure to share it with family and friends. 
Prep Time: 15 minutes 
Cook Time: 1 hour & 30 minutes 
Serving Size: 1 loaf
Ingredients:
4 cups of all-purpose flour 
1/4 cup of sugar
1 tsp. of salt
2 tsp. of baking powder
2 tbsp. caraway seeds
4 tbsp. of butter, cold 
2 cups of raisins
1 1/2 cups of buttermilk
1 large egg
1 tsp. of baking soda
1 large egg yolk
1 tbsp. of heavy cream 
Instructions:
Heat oven to 350 degrees. Line a baking sheet with parchment paper. In a large bowl, whisk together flour, sugar, salt, baking powder, and caraway seeds until well combined.
Using a pastry cutter or two knives in scissor fashion, cut in butter until the mixture feels like coarse meal. Stir in raisins until evenly distributed.
In a small bowl, whisk together buttermilk, egg, and baking soda until well combined.
Pour buttermilk mixture into the flour-and-butter mixture all at once and stir with a fork until all the liquid is absorbed and the mixture begins to hold together. It should resemble a rough biscuit dough.
Using your hands, press the dough into a round, dome-shaped loaf. Lift the loaf from the bowl and transfer it to the prepared baking sheet.
In a small bowl, mix the egg yolk and cream together. With a pastry brush, brush the egg wash over the loaf. With a sharp knife or razor, incise a cross, about 1/2-inch-deep, into the top of the loaf.
Transfer to the oven. Bake, rotating halfway through, until it is deep golden brown, and a wooden skewer comes out clean when inserted into the center, about 70 minutes.
Remove from oven, and transfer bread from the baking sheet to a wire rack to cool. Serve with your favorite Red Rose brew and enjoy!