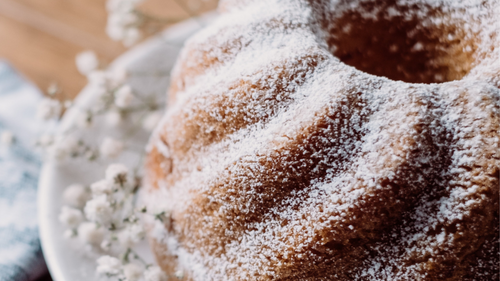 Vanilla Bundt Cake
Craving something sweet? You'll love our Classic Vanilla Bundt Cake recipe! A simple cake that everyone will enjoy.
Prep Time: 15 minutes 
Cook Time: 1 hour 
Serving Size: 1 bundt cake 
Ingredients:
1 1/2 cups unsalted butter, at room temperature
1 1/2 cups sugar
6 large eggs
2 1/4 tsp. baking powder
1 1/2 tsp. salt
3 cups all-purpose flour
1 tbsp. vanilla extract
1/4 tsp. almond extract
3/4 cup cold milk
 Directions:
Preheat the oven to 350°F and grease bundt cake pan.
Place butter in a bowl and beat until softened. Add in sugar and eggs. Add in the baking powder and salt to the batter and stir just to combine. Do not over stir.
Add the vanilla and almond extract into the mixture. Then add flour and milk.
Gently beat the mixture until batter is thick and smooth with only a few lumps.
Add the batter to the bundt cake pan as evenly as possible.
Bake the bundt cake for 50 minutes. Remove the cake from the oven, and gently loosen its edges. Let the cake cool in the pan for 5 minutes.
Let the bundt cake cool completely to a warm temperature before adding sifted powdered sugar or other toppings over cake. Enjoy with your favorite Red Rose brew!