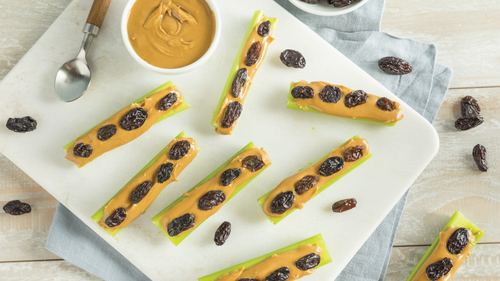 Easy Back To School Snacks
It's that time of year again and students, parents and teachers alike are preparing themselves for a new and unconventional school year. We understand that the upcoming school year will hold a new set of challenges for everyone but Red Rose Tea is for you. 
We're sharing FIVE delicious sweet and savory snacks that you and your kids will enjoy! 
---
Ants on a Log
This fun snack is so easy the kids can make it! All you need is celery, peanut butter and raisins. 
Ingredients:
5 celery stalks
½ cup of peanut butter
½ cup of raisins
Instructions:
Clean and cut celery stalks
Spread with peanut butter
Sprinkle with raisins
---
Apples, Peanut Butter & Chocolate Chips
This simple and easy snack is packed with fiber and protein.
Ingredients:
1 apple (cut into slices)
¼ cup of peanut butter (melted)
Handful of chocolate chips
Instructions:
Arrange apple slices in a bowl or on a plate.
Drizzle with melted peanut butter.
Sprinkle with chocolate chips
Serve warm and enjoy!
---
Easy Fruit Salad
This deliciously easy fresh fruit salad with all favorite fruits and no added sugar. 
Ingredients:
¼ cup of pineapple cubed
1 orange, chopped
½ apple, chopped
10 grapes (red or green), halved
2 cups of yogurt (your choice of flavor, we recommend strawberry or vanilla)
Instructions:
Stir pineapple, orange, apple, and grapes together in a bowl. Pour yogurt over the top and stir.
---
Homemade Trail Mix
Ready in 5 minutes and you can easily switch out ingredients. 
Ingredients:
1 cup of pretzels
1 cup of dried fruit
1 cup of cashews or another favorite nut
½ cup of chocolate covered candy
½ cup of raisins
Instructions:
Throw everything together in a sealed container.
Store in a cool, dry area.
---
Graham Cracker Cheesecakes
This after-school snack is a healthy way to indulge your child's sweet tooth.
Ingredients:
12 graham crackers
½ cup of cream cheese
1 cup of strawberries, sliced
Honey for taste
Instructions:
Spread cream cheese onto graham crackers
Top with sliced strawberries
Drizzle with honey and enjoy