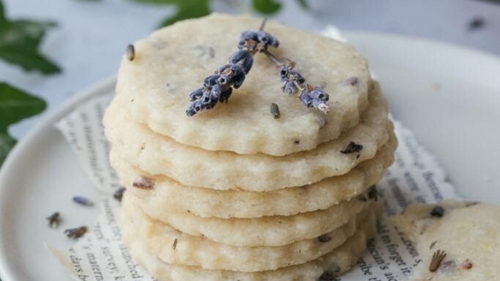 Easy Shortbread Cookie Recipe
We have the best shortbread cookie recipe for you. Not only is this recipe simple to make, it's also incredibly tasty. The classic sweet and savory shortbread cookie you know and love, mixed with the exciting flavor of a London fog! The secret, Red Rose Earl Grey Tea!  
The best thing about this recipe is its versatility! Not a fan of Earl Grey? Add in your favorite tea for a delicious cookie you'll make again and again. 
Tip from our Bakers:
Try adding these yummy Red Rose Teas to your next batch: 
If you have been resorting to the comfort of baking during the current pandemic, you are not alone! This recipe is quick and easy with very few ingredients. You can't go wrong!  
Shortbread was given its name because of its crumbly texture. The irresistibly rich and dense flavor makes this dessert one of our favorites! Make a whole batch and keep them as a snack! Shortbread cookies store well in an airtight container at room temperature for about a week or freeze for even longer!  
Let's Talk Flour 
Before we get too far, we want to talk about flour so we understand why we use it and when. Have you ever stood in the flour aisle and felt completely overwhelmed? You're not the only one! Take a look at this simple guide to understand the difference between different kinds of flour.  
For this recipe, we will stick with all purpose flour. Bread flour is a little too dense for this recipe. Cake flour is a great addition to a dessert that you want to be more fluffy, and pastry flour would be perfect for a delicate flakey treat but for shortbread cookies, all purpose will be our best bet. 
What's the Difference Between Cake Flour, Bread Flour, Pastry Flour, and All-Purpose Flour?
All-purpose flour  
All-purpose flour has a semi high protein percentage. True to its name, all-purpose flour is good for all sorts of items, biscuits, bread, pizza dough, cookies and so much more! Because the protein of this flour is in the middle to high range on the scale, it helps give structure to whatever you bake without losing that softness we know and love.  
Whole wheat flour  
The first difference you will notice in whole wheat flour is its color, this is because it still contains a lot of the elements of the wheat in it. Whole wheat flours contain a higher oil content than that of other flours. Whole wheat flour adds good fiber to whatever you are making, and your baked items will often come out denser. If dense isn't what you're looking for, whole wheat flour can be mixed with all purpose to help balance out the texture. 
Cake flour 
Cake flour has a very fine grain texture. The biggest difference between cake flour and all-purpose is that cake flour has a significantly lower protein content. Cake flour will give a softer, more delicate texture to whatever you are making.  Cake flour is used for more than just cakes, it can be used to make all kinds of baked goods such as muffins, cupcakes, biscuits and scones and even cookies!  
Pastry Flour
Pastry flour, as opposed to bread flour, is very fine grain resulting in a lower protein content. As its name states, pastry flour is perfect for making those flaky delicious pastries and pie crusts. Avoid using pastry flour for anything that requires more structure.  
Bread flour 
Bread flour has a higher protein content which helps give your bread a better strength and structure. This is good for creating that delicious crust and chewy center to your favorite breads. 
Are you on Keto? 
No worries! This recipe can easily be made keto friendly with your favorite flour substitute (we recommend almond flour) and your favorite sugar substitute (we recommend erythritol or Stevia). 
Although shortbread cookies are known for the rich butter flavor, it has very little to do with the lift of the cookies and can also easily be made dairy free! Simply substitute with margarine, shortening or your favorite non-dairy butter!  
Prep Time: 40 minutes
Cook Time: 12 minutes
Serving Size: about 2 dozen cookies 
Ingredients 
1 cup softened

unsalted

butter 

2/3 cup

unsifted

powdered sugar

1 ¾ cup a

ll-purpose

flour

1-2 teabags Red Rose Earl Grey Tea
Directions 
In a large bowl or stand mixer, cream together the butter and sugar until fluffy. 

Add in tea and flour to the mixture until dough is completely mixed.

Our Earl Grey Tea comes in tea bags so just open the bag and incorporate the already fine tea.

Wrap dough in plastic wrap and chill for 30 minutes

Roll out chilled dough on floured surface to about ½ inch thick. Cut cookies to desired shape and cool for another 20 minutes.

Preheat oven to 350

˚

F and line baking sheets with parchment paper.

Bake

cookies for 12 minutes or until cookies are just barely brown around the edges.

Let cookies cool and pair with a hot glass of Red Rose Decaf Black Tea for a treat you can enjoy all day!