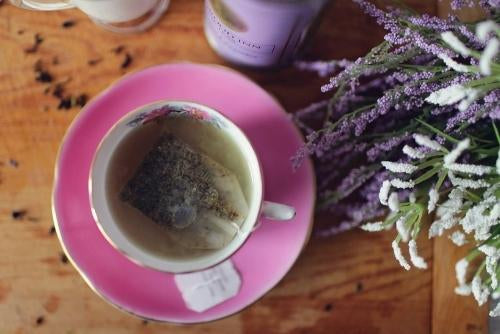 How Honey Lavender Tea Helps You Decompress
Daily life has its fair share of ups and downs. It's important to have a daily ritual that helps you unwind and relax. That's where a delicious cup of honey lavender tea can help. 
Honey lavender tea is the perfect beverage for your daily moment of peace and tranquility after a long day of speed bumps. Honey lavender herbal tea helps you relax and reset.
Learn more about this herbal tea and why it needs to become a part of your lifestyle today!
What Kind of Tea is Lavender Tea?
Lavender tea is made from the buds of the lavender flower steeped in hot water. Lavender tea is an herbal tea. 
How Do I Use Lavender and Honey?
The tastes of honey and lavender go together like two peas in a pod. Honey sweetens lavender tea to give it a soothing taste that allows you to relax. Herbal teas can also use licorice to to create a sweetness that tastes just like honey. 
What Does Honey Lavender Taste Like?
A honey lavender flavor that comes in a tea with premium herbal ingredients has a wonderful floral well rounded flavor that gives off a scent of lavender. 
A delicious honey lavender herbal tea can help you reset!
What Does Honey Lavender Tea Do? 
Honey lavender tea helps you reset and is the perfect beverage you will learn to crave after a long day. It can help you decompress and let go of your troubles while preparing to refocus and start again tomorrow!
What is the Best Tea for Sleeping?
Ideally, you should be looking for a tea that allows you to relax. Pick a time every day where you can decompress, make some tea and just be in the moment. That's half the battle right there.
Choose the tea that makes your body relax!
Does Honey Lavender Tea Help You Sleep?
A honey lavender tea has calming effects that can help you unwind and reset.
Can I Drink Lavender Tea Every Day?
Honey lavender tea can be a daily ritual of relaxation. It's an herbal tea that contains ingredients like apple, lemongrass, lavender, chamomile, licorice and natural flavors. 
Is Lavender Tea Caffeine Free?
You should always check your ingredient labels. Many honey lavender teas are considered herbal teas that do not contain caffeine. 
How Do You Make Lavender Tea?
Brewing instructions are very important when you are making a honey lavender herbal tea. We recommend bringing fresh cold water to a rolling boil and pouring 8 ounces of water over one honey lavender herbal tea bag. Then you can steep for three to five minutes and remove the tea bag. 
Making a quart of honey lavender tea to serve iced tea? Pour four cups of boiling water over three to five tea bags and steep for three to five minutes. Remove tea bags and pour over ice filled glasses!
Carve Out Time For Your Special Moments!
The tea you consume should be just as unique and special as the moments you try and carve out yourself! You want to find tea blends that are made from only the finest black tea leaves and highest quality herbs in pyramid tea bags. You also deserve flavors that are just as special as those special moments. These types of flavors are designed to help you during certain parts of the day:
Try Red Rose Tea Today!
Sometimes you just need to unwind and let your day go because daily life has its ups and downs! At the end of every day, Red Rose invites you to find your moment, relax and reset with a cup of tea. 
We find a good cup of tea is the perfect evening ritual to relax and reset for the next day! Red Rose Tea offers unique tea specially crafted for these unique moments. All you need to do is find time for them! Enjoy our Red Rose Moments line today and take time for you!