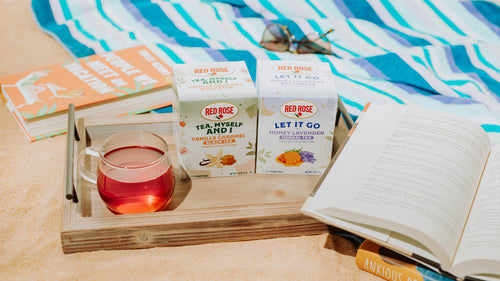 Top 10 Books to Read on the Beach this Summer
What Makes a Good Beach Read Book?
How many of you feel a breath of fresh air once summer is officially in season? With summer comes more daylight hours. Longer days and warm weather bring a calming energy all around and a resurgence of finding time in your busy schedule for some much needed relaxation.

Relaxation is important for you both mentally and physically. The summer months are associated with more harmony because many people are often more in-tune with putting in that necessary time in their daily routine for habits that can improve their motivation, health, and positivity. Finding more me time during the warm summer months is also special because you have the opportunity to bring your favorite hobbies outdoors.
One of the most popular summertime favorites is reading. A good beach book is typically an entertaining novel that's a fast read and one you have trouble putting down. You don't actually have to physically be at the beach to enjoy a good beach book. It is more of the association of enjoying a book that consumes you but is also easy enough to follow while also being able to take pleasure in your surroundings every now and again without losing track of the story.
A pleasing beach read is different to everyone. To some, it may be a suspense you can't put down, while for others it may be a book with short chapters that makes you laugh out loud, or a light-hearted romantic comedy that brings laughs and tears.
Healthy Summer Drink
Does tea and summer mix? YES! Some may find it hard to believe but drinking a cup of hot tea not only helps keep you hydrated in the summer but makes your body sweat more and when the sweat evaporates, it helps keep your body stay cool. In fact, iced teas can prompt your body to heat up. Drinking a cold beverage with ice during the summer heat forces our bodies to work to balance the difference in temperature.

Next time you're looking for a refreshing summer drink, try a nice cup of hot tea for the perfect summer drink.
Books and Tea
Beloved author C.S. Lewis once said, "You can never get a cup of tea large enough or book long enough to suit me." We have plenty of book and tea quotes that we love that capture our association to a calming day, one that we wish we could fit more time in than the day allows.

One reason books and tea pair so well together is because of their power to help boost your positive energy. A study by the University of Sussex reported that reading a book can reduce stress by up to 68 percent! Interestingly, studies also show that tea blends can help improve a person's mood and focus. The combination of both books and tea can help support feeling optimistic, upbeat, and help boost your confidence.
Our Red Rose Moments line of tea blends is specially crafted to make your teatime a special moment every day. If drinking a cup of tea is part of your daily ritual and you have a passion for books, our tea blends are designed to help you savor the day. Explore our
Moments tea products
here and savor a delicious taste with a good quality book. You deserve it!
Summer Reading List
Looking for the perfect beach read? Here are our top 10 recommendations.

1) People We Meet on Vacation by Emily Henry

Looking for a breezy rom-com filled with laughs and love? People We Meet on Vacation tells the story of two best friends, Poppy and Alex, who are complete opposites and meet while carpooling home from college. After becoming best friends, they make a pact to spend a week on vacation together every summer, even when living far apart.

Until two years ago, when they stopped talking.

Things change as they face challenges in their professional and personal lives. What seems like a perfect dream, doesn't always give you everything you want. Poppy can't help but now wonder the last memory she had when she was truly happy and asks Alex to accompany her on one last vacation.

2) The Vanishing Half by Brit Bennett

The Vanishing Half
is a historical fiction novel about choices and circumstances. We follow two identical twin sisters, Desiree and Stella, who grow up in a small town in the Louisiana that is entirely made up of light-skinned Black people. Their story is told through a third person point of view that spans four decades, starting in the 1950s, and follows how each one of them differently rebels against their town's boundaries and how their choices have shaped each of their daughters.

In Brit Bennett's second novel, she explores the constructions of both race and gender identity, and the lies we fall into to live what we think should be a more passable, safer life.

3)  Finding Me: A Memoir by Viola Davis

Incredibly talented, Viola Davis, is the recipient of multiple awards, including an Academy Award, Primetime Emmy, and Tony Awards. In her new memoir, she tells the story of her path getting to where she is today, which is no ordinary journey.

Davis writes her beautiful story of the challenges she has faced, and the importance of finding the best version of herself. She highlights some hard truths she has faced but without apologies.

Finding Me will make you feel empowered, laugh, and cry. It's one page turner that's hard to put down!

4)  How to Be Perfec: The Correct Answer to Every Moral Question by Michael Schur

No, that's not a spelling mistake. In this book, Michael Schur, the creator of the comedy series The Good Place and co-creator of Parks and Recreation, asks moral and ethical questions about how to be a good person. Similar to The Good Place, Schur writes an enjoyable and humorous analysis of morality.

This book is a light read and an entertaining reminder that perfection is worthy but an unattainable goal.

5) The No-Show by Beth O'Leary

Beth O'Leary is quickly becoming a favorite author in England and across the United States. Since her debut book, The Flatshare, she has taken readers on joyful adventures with relatable characters we know or feel connected to. The No-Show is O'Leary's latest novel that is a heartwarming story that keeps you guessing.

The story follows three different women who have nothing in common and are complete strangers. Unbeknownst to them, they all share something in common: they have all been stood up by the same man on Valentine's Day.

This book is not at all what you are expecting…it is better than you could imagine as the stories unfold. You are sure to fall in love with each character's beauty and flaws in a unique love story sure to make you laugh and cry.

6) Anxious People by Fredrik Backman

Anxious People
follows strangers in a hostage situation but is no ordinary bank robbery tale. The story takes place after a bank robber fails at robbing the bank and somehow is trapped holding people viewing an open house in a hostage situation. The readers get to know the anxious strangers who are stuck in the apartment, the police officers handling the crime scene, and the failed robber.

This is one book filled with entertainment, laughs, and a surprise-filled narrative capturing the messy parts of being human. People are not always how they seem, and the stereotypes that have broken ties everything together for a heartfully written story about strangers who make mistakes and digs deeper to understand what is really happening behind the curtains in someone's life.

7) It Ends with Us by Colleen Hoover

Colleen Hoover is known for her successful young adult books, and It Ends with Us is one of her best novels. Make no mistake though, this is a book for strong women to read and not just teenagers. Hoover tells a brave story that leaves a mark on you. It End with Us has become a phenomenon since its release in 2016 because it shows the reality of human nature and the mistakes we make. Things aren't as always as black and white as they seem.

The story follows Lilly falling for neurosurgeon, Ryle Kincaid. We read about Lilly's past and present life, and the hard reality she faced in the past and it also tells the story of her present. As Lilly and Ryle pull closer, she starts thinking back to her first love, Atlas.

We don't want to reveal too much because going into the book blindly makes for a powerful read that is both beautiful and heartbreaking.

Make sure to get your hands on this before the much-anticipated sequel, It Starts with Us, is released in October 2022!

8) The Midnight Library by Matt Haig

Matt Haig invites us on an enchanting journey where a library lives somewhere between life and death, and the bookshelves never end. You can find a book that tell the story of your life, as well as other books that tell a story of a life you could have lived if you had taken different paths to get there.

We all can't help but wonder, would life be totally different if we had made this choice? Where would we have ended up?

The Midnight Library is a story about learning to love being you. It's a touching novel that makes you appreciate life and is an uplifting and powerful read.

9) Counterfeit by Kirstin Chen

This is a fun and easy read that grabs your interest right away. Counterfeit tells the story of two friends who are unsatisfied with how they are seen.

Ana is a Chinese American lawyer, a wife, and a mother who should be living an amazing life. However, the life within her beautiful home is falling apart and pushing her to a breaking point. When she becomes reconnected with her college roommate, Winnie, who left school abruptly, Ana meets a new Winnie who is beaming in confidence and luxury. What's her secret to having the perfect life?

This book is written as a confession but with quite the twist. We follow two women who built an empire importing luxury handbags. Sit back, relax, and enjoy this entertaining novel that looks into Asian and Asian American stereotypes and has you guessing what to believe.

10)  Daisy Jones & The Six by Taylor Jenkins Reid

New York Times best-selling author, Taylor Jenkins Reid, brings you on a documentary style journey following the rise of an iconic 1970s rock band. Young and troubled Daisy is a talented singer and songwriter who loves rock and roll. As her beauty and voice start to get attention, another band, The Six, led by Billy Dunne, is taking off. As both artists become recognized, a producer has Daisy and The Six join forces, and the rest is history.

This is a page turner you'll want to finish. Make sure to read it before Prime Video releases a mini-series adaptation produced by Reese Witherspoon's production company.
It's the Little Things
Yearning for an adventure? We hope our booklist takes you on a special journey and can help you rid any stresses during the day. Enjoy some good beach reads with tea blend flavors that enhance your summer experience. "It's the little moments that make life big," and we want you to appreciate the little things in life as much as possible. 
Each
Red Rose Moments
are made from the finest black tea leaves and highest quality herbs, with flavors designed to enhance everyday moments. The Moments line were made and crafted with you in mind, in order to enjoy a wonderful cup of tea that's unique and loaded with flavor and fit in calming time in your busy schedule.
Virtual Book Club

We are excited to invite you to our Red Rose book club. Looking for a booklist, recommendations, or virtual meet ups to discuss a recent favorite? Well, tea and book lovers, make sure to tag us on social media with you drinking your favorite Red Rose Tea along with your current book of choice. Want to share book recommendations for future lists? Enjoying one of the books we love? Share a picture on social media and add #RedRoseBookClub. We're excited to talk books and tea with you!